Blog
Why Buy AAVE in Australia?
Why Buy AAVE in Australia?
Posted on 05 May 2021 by
Bella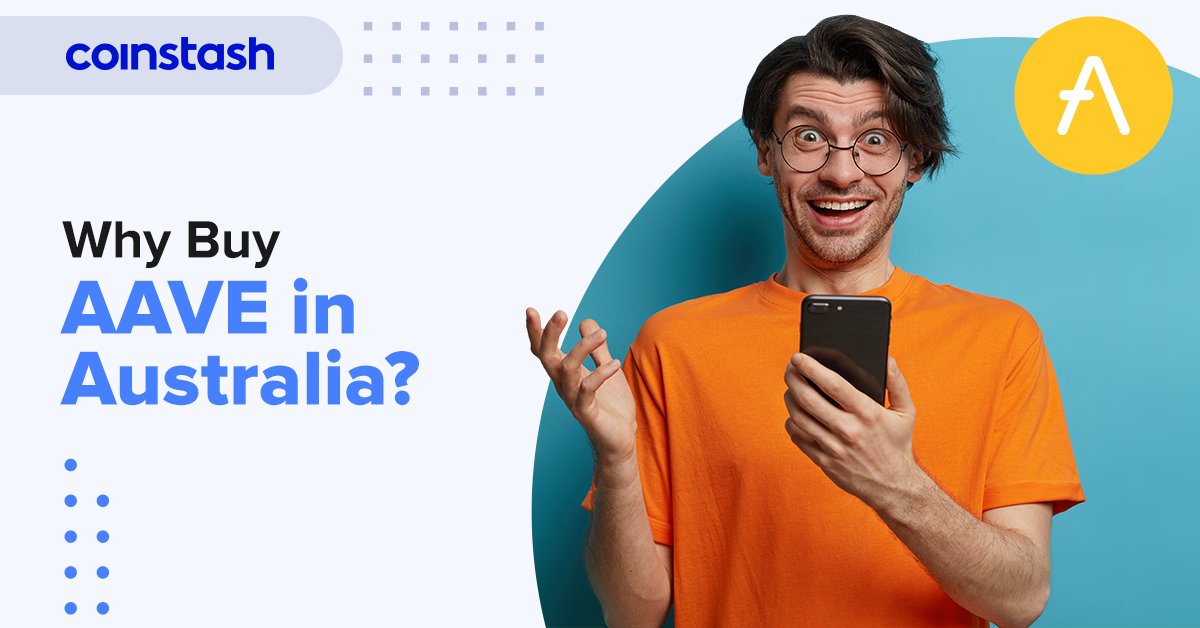 Crypto trading in Australia is rapidly starting to expand, with 1 in 4 Australian's now holding a financial interest in some form of cryptocurrency. Based on research from comparison website Finder, this works out to be around 5 million crypto traders in Australia. And while the majority of crypto enthusiasts are currently investing in Bitcoin, a growing number are starting to branch out into newer forms of cryptocurrencies and decentralised finance (DeFi). And one of these emerging cryptocurrency lending protocols is AAVE.
But what is AAVE? What is DeFi? How does trading in AAVE differ from trading in Bitcoin? For Bitcoin traders in Australia, is it worth exploring the value of AAVE as well? And what is the best crypto trading platform in Australia for AAVE?
WHAT IS DECENTRALISED FINANCE (DEFI)?
In order to understand AAVE, crypto traders in Australia first need to be familiar with the concept of decentralised finance in general. Unlike Bitcoin, which was a reimagining of digital currency, DeFi is a range of decentralised financial services that are focused on building new financial platforms. They're referred to as "decentralised" because they don't operate from a central computer system. Instead, they operate across a network of computers in many different locations. The goal of DeFi is for users to be able to engage in trading, banking and insurance without having to use a traditional middleman (such as a bank). By cutting out the middleman, DeFi is able to offer reduced fees when compared to a typical central finance company.
With DeFi looking so promising, it's no surprise that decentralised finance is growing at such a rapid rate. From a starting value of $US662.5 million in early 2020, DeFi had climbed in value to $US11.19 billion by October 2020
WHAT IS AAVE?
AAVE was created in 2017 by a company that was at the time known as ETFLend. They were able to raise just over $16 million with their initial coin offering of 1 billion units of AAVE (which was previously called LEND). In 2018, the company announced they were changing their name to Aave (which means "ghost" in Finnish). Since the re-brand, Aave has been busy matching up crypto borrowers and lenders using a direct peer-to-peer format (instead of just combining everything in a central pool). Aave has also instituted a new system to handle payments and a trading exchange desk that manages big trades.
HOW IS INVESTING IN AAVE DIFFERENT FROM BUYING BITCOIN IN AUSTRALIA?
Bitcoin traders in Australia buy and sell Bitcoin in much the same way that you would buy or sell an international currency. The idea is to buy a currency when the value is low and then sell the currency once the value has increased enough for you to make a profit. As a DeFi system, Aave is much broader in scope than Bitcoin and utilises the blockchain method created by Ethereum. With Aave, investors can borrow and lend more than 15 different cryptocurrencies, earning interest on their invested crypto assets. Included in these currencies are AAVE tokens, which can be traded through the platform. Crypto traders who hold AAVE tokens can use them to receive a discount on lending and borrowing fees. Traders with AAVE tokens also get to have a vote when the company is considering significant changes to how Aave is operated.
I WANT TO BUY BITCOIN IN AUSTRALIA – SHOULD I ALSO EXPLORE AAVE?
Bitcoin traders in Australia may find that it's well worth exploring their options when it comes to AAVE. Aave is already a frontrunner in decentralised finance and is continuing to develop new systems that will give people the ability to take more control of their finances. With this in mind, it's likely that Aave will continue to grow in popularity.
When it comes to considering the value of AAVE tokens, remember that AAVE holders can use these tokens to reduce their borrowing and lending fees. Because of this, AAVE tokens are gradually decreasing (as a steady supply of tokens are routinely "burnt" in offsetting fees). Like any commodity, the scarcer the supply, the more the value is likely to increase. Because of this, AAVE could prove to be a solid investment in the future for those engaged in crypto trading in Australia (as one element of a diversified portfolio of cryptocurrency).
WHERE TO BUY AAVE IN AUSTRALIA
With so much money being invested in cryptocurrency, it's no surprise that cryptocurrency brokers in Australia are increasing in number. But what should you be looking for if you want to find the best crypto trading platform in Australia?
To begin with, you should look for a crypto broker that has a verified platform. Coinstash is one of the only cryptocurrency brokers in Australia to have participated in the Australian Government's Austrade Landing Pad program and is registered with AUSTRAC. This gives crypto traders in Australia peace of mind that they're dealing with a legitimate and verified crypto broker.
Another thing to look for when comparing crypto brokers in Australia is their reputation with past and existing customers. Coinstash currently holds an 'Excellent' rating based on authenticated reviews left on the impartial website TrustPilot.com. Some recent reviews included the following comments:
"Quick transfer of funds and excellent customer services." – Steven White, Trustpilot.com
"Very easy to use and has the main crypto coins so works well if just wanting some exposure to it. Also the help desk replies quickly during office hours so the few questions I had were promptly addressed." – David, Trustpilot.com
"Thanks…for helping to buy my first Bitcoin! Excited!" – Phil L., Trustpilot.com
"Whenever I ran into a problem, [Coinstash customer support] was always there and always helped me with everything. True life saver…why don't more people use Coinstash? I'll continue to use them in the future. 5 stars everything." – Jeffrey Matthews, Trustpilot.com
GET STARTED – INVEST IN AAVE CRYPTOCURRENCY TODAY!
Coinstash is a registered digital currency exchange based in Australia. Our customers praise Coinstash as one of the most user-friendly, educational and supportive platforms. Through its live support 7 days a week, Coinstash has accumulated numerous positive reviews from its customers.
At Coinstash, we help you buy and sell Bitcoin, Ripple, Ethereum, AAVE and more with AUD. Signing up to Coinstash is safe, easy and only takes a few minutes.
Join Us Now!

Other articles from our blog