Blog
Why Buy DAI Australia?
Why Buy DAI Australia?
Posted on 05 May 2021 by
Bella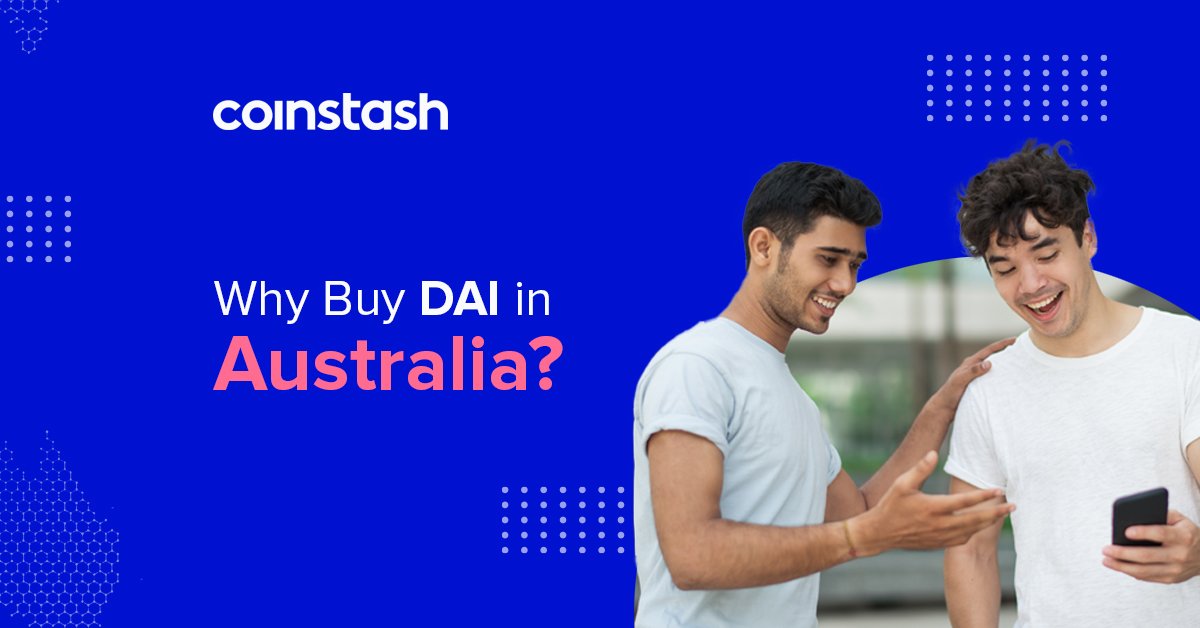 As cryptocurrency gradually becomes more of a mainstream investment, Bitcoin brokers in Australia are noticing an emerging trend: Bitcoin traders in Australia are starting to show a growing interest in increasingly diverse forms of crypto. This isn't surprising considering the global number of cryptocurrency traders recently surpassed 100 million.
One of these emerging cryptocurrencies that is starting to gain traction amongst crypto traders in Australia is DAI, a stablecoin based on the Ethereum blockchain. But what exactly is a stablecoin? Why should DAI be of interest to Bitcoin traders in Australia? And if you want to start investing in DAI, what is the best crypto trading platform in Australia for you to use?
WHAT ARE STABLECOINS?
As keen crypto traders in Australia will no doubt be aware, cryptocurrency in the past has been known to experience price fluctuations. This can make some investors nervous, so stablecoins were designed to overcome this issue. A stablecoin is a form of cryptocurrency linked to an asset that is considered to be less volatile. The most common linked assets are usually some form of fiat currency (an official government-issued currency, such as the US dollar or Euro) or a material asset such as gold.
To establish a stablecoin, the company backing the crypto will create what's commonly called a "reserve" in a secure financial facility. For example, the company could deposit $5 million in a traditional bank to be held in reserve for a corresponding 5 million tokens of the relevant stablecoin. This reserve protects investors because they can hypothetically exchange their crypto tokens for a corresponding amount of the reserve asset at any time.
While most stablecoins turn to traditional assets for collateral, some will use other forms of cryptocurrency instead.
WHAT IS DAI?


DAI was launched in 2014 by Maker Foundation, with the goal of creating a credit system backed by cryptocurrency. DAI users would be able to take out loans with the backing of cryptocurrency. DAI operates on the MakerDAO decentralised finance (DeFi) system. When a user decides to take out a loan, DAI tokens are issued. These are what's known as an 'ERC20' token, which means it is a blockchain-based cryptocurrency token that has been issued by the Ethereum network.
DAI is a stablecoin that is directly linked to the value of the US dollar. While other cryptocurrencies see fluctuations in price based on demand for the number of coins or tokens available, DAI will automatically create or burn coins to ensure the price never moves far from the US dollar value. This programming has so far been quite successful. In its first year of operation, DAI was able to consistently maintain a stable value that closely reflected the US dollar, despite the fact that during this time the value of Ethereum declined by 80%.
HOW IS INVESTING IN DAI DIFFERENT FROM BUYING BITCOIN IN AUSTRALIA?
Bitcoin traders in Australia will know that Bitcoin is a decentralised cryptocurrency. If you want to buy Bitcoin in Australia then you either have to mine it yourself as part of a network (requiring a lot of time and sophisticated computer equipment) or you have to buy existing coins from someone else. Because of the effort involved in procuring new coins and the limited number of coins available, the value of Bitcoin has skyrocketed.
In contrast, DAI uses decentralised open-source software which functions through the existing Ethereum blockchain. In terms of value, it is able to hold steady with the US dollar, but it doesn't hold US fiat currency as collateral. Instead, it is able to remain a stablecoin by locking in secured debt designated in Ethereum cryptocurrency (ETH). Investors who hold DAI tokens will get to participate in governance votes related to the ongoing development of the protocol.
I WANT TO BUY BITCOIN IN AUSTRALIA – SHOULD I ALSO INVEST IN DAI?
DAI could be a great choice for crypto traders in Australia who want to balance their investment in Bitcoin with a more predictable cryptocurrency. DAI was one of the first stablecoin cryptocurrencies to operate on the Ethereum blockchain and has demonstrated a consistent ability to minimise market volatility.
In late 2020, DAI reached a significant target of one billion tokens in circulation. "One billion DAI in circulation is a huge milestone," observed founder Rune Christensen. "And a powerful validation that people around the world want more access, more transparency and more opportunity to maximize their economic potential." With plenty of DAI in circulation, this stablecoin can function more like a traditional fiat currency, being used for frequent trades (instead of being stashed while you wait for the value to increase).
WHERE TO BUY DAI IN AUSTRALIA
If you're a crypto trader who wants to start investing in DAI, what is the best crypto trading platform in Australia for you to use? For starters, you should look for a cryptocurrency broker with an established reputation, an easy-to-use platform, terrific customer service and the option to buy DAI with AUD. In these respects, Coinstash certainly ticks all the boxes.
Coinstash has deep liquidity in USD markets, which enables us to provide Coinstash users with fantastic trading prices. With 8 years of industry experience, Coinstash has developed a loyal customer base who appreciate the intuitive platform and great customer support team. On Trustpilot.com (an independent website that allows verified users to leave reviews), crypto traders were enthusiastic in their praise:
"Excellent service! Looking forward to a long journey with COINSTASH." - Ripeka Hitaua, Trustpilot.com
"5 star awesomeness!!! This platform in my opinion is the best! Excellent service and support!" - John Louis, Trustpilot.com
"Good customer service response and good rate." – Lester Kelly, Trustpilot.com
"Very easy site to use…has provided excellent responsive and efficient customer service." - Margaret Marcou-Sloper, Trustpilot.com
Coinstash also operates as a verified crypto trading platform in Australia. We're registered with AUSTRAC and proudly participated in the Austrade Landing Pad program run by the Australian Government. This means that you can have peace of mind when it comes to trading with Coinstash – with us, you won't need to worry about dodgy operators or rip-off prices!
GET STARTED – INVEST IN DAI CRYPTOCURRENCY TODAY!
At Coinstash, we've made buying and selling DAI, Ripple, Ethereum and Bitcoin (plus loads more!) simple, with the ability to trade in AUD. Join over 3,000 users on a platform that is safe, reliable, offers low fees and has a knowledgeable and friendly customer service team.
Sign up to Coinstash in just a few minutes and be part of Australia's financial revolution!

Other articles from our blog